I thought I would take a quick minute to update you on my projects I said I work on this year. Read about my goals and ideas I set for 2023 here. Hopefully you enjoy seeing what I'm up to as writing this post is helpful for me to see what I'm doing and see if I want to make changes to my creative habits.
It may sound a little early, but I've been thinking about 2024 and if there's anything new to start. I'm thinking a little bit about forming some sort of "club" focused either on community support for keeping up a practice or perhaps learning something? If this inspires an idea from you and something you'd like to be a part of, please let me know in the comments below.
Memory Planner
Keeping up with my digital memory planner. I tend to fill out this planner at the end of the day, after things have already happened. I really love making the little daily spreads. It's nice to do some really low commitment scrapping, it can be as much or as little as I want, but it helps to keep me in the daily practice of scrapbooking.
A few links to share if you're interested: this is the digital planner I'm using, and you can read more about digital planning here. Let me know if you have any questions! I'm trying to convert people to my current obsession :)
Digital Pocket Album
Keeping up with my pocket scrapping as well!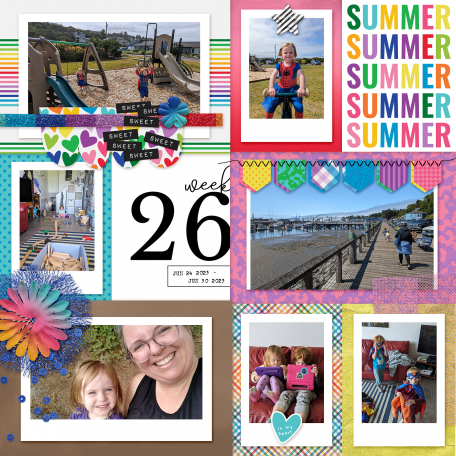 Hope your enjoying looking back at those summer memories as we head into fall!
So thrilled to announce that we are adding Meagan Johnson as a new designer to our team here at DigitalScrapbook.com . I have been watching her pocket scrapping designs develop for years and she has finally taken the plunge to join us here! Meagan is a dedicated pocket scrapper, doing a lot of her scrapping with apps instead of a big program like Photoshop. She's a great resource if you're looking for a lighter way to scrapbook that doesn't require a computer. Check out her Facebook group for more details, or leave her a comment below.
Here's a little hello from Meagan:
Hey scrappy friends! I live in MN with my husband and 4 kids (21, 18, 13 and 6) I started scrapbooking 20 years ago when my first son was one. It didn't come easy for me in the beginning but I LOVED my pictures so much that I wanted them to shine and I wanted our memories recorded alongside them. I persisted and found my scrappy voice. I have loads of physical scrapbooks that I love! We have lived all over the country and I have packed up and hulled my scrapbook supplies along. It is usually one of the first rooms I unpack!
Once my third son was born (along the smart phone with it's endless stream of photo taking capabilities) I became bogged down with photos! I then started digital scrapbooking and pocket page scrapping. While I still physical scrapbook, I now get most of my pages done in the Project Life app…on my phone, in the car, on the plane, in bed! I need my scrapping to be fast, flexible and on-the-go to stay current!
I started designing pocket card kits in 2020 at the onset of the global pandemic. I really want my photos to shine so I love a clean, minimal style with a lot of white space. I really enjoy creating color palettes, patterns and word art. Sometimes a find a little grunge to go a long way too!
I'm thrilled to have a dedicated pocket designer here at DigitalScrapbook.com . I love pocket scrapping myself and look forward to using her cards in my upcoming pages. And here's her first kit. Looking forward to many more!
Pages