Any digital planners here reading this blog? Say hi in the comments below!
Digital planning has been my new thing for 2022. I've spent most of the year trying out different things, seeing what works for me, and as the end of the year approaches I'm starting to feel good about setting new rhythms with this new to me hobby.
I have long wanted to be a part of the planner craze, but I've never managed to get anything to work with me. Once I discovered that there was a digital option, I thought, maybe, perhaps, I could be on to something.
I always love the flexibility of digital. I don't have to keep track of physical supplies, or wonder where the undo button is. With a digital planner, if you suddenly decide to try a new notebook, you can just just copy/paste things you've written in your new spot. Also, if you start investing in stickers, you can use them as many times as you want.
Stickers and having sticker books may be the deciding factor for me in sticking (haha, didn't notice that pun the first time around) with digital planning.
So if you're interested in giving digital planning a try, or in getting ready for all the awesome stickers I made for October, you can set yourself up for the coming month with these planner goodies. I have undated spreads for daily, weekly and monthly use, some fun dashboards to add flair to your planner, and some widgets to help get your organized for the month ahead. And as I mentioned before many cute stickers will be released on October 1. So now is the time to prepare.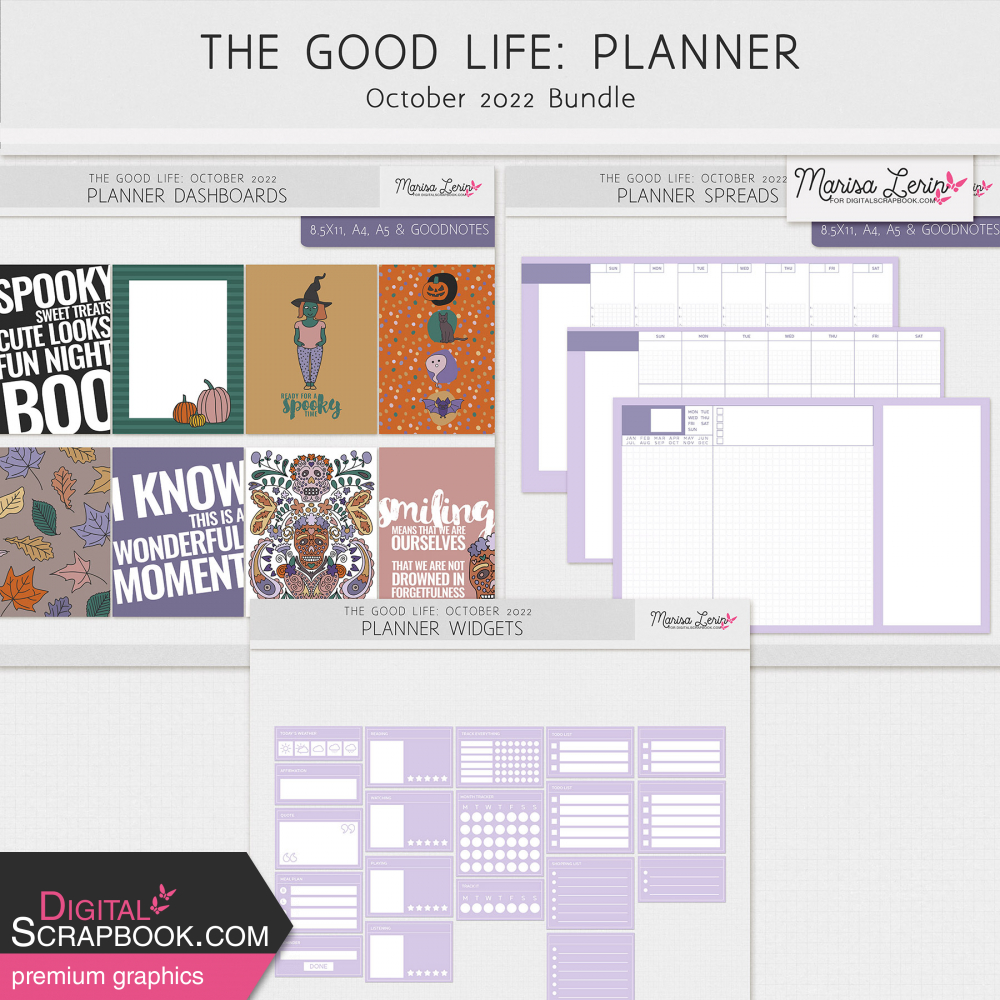 If you have any questions about digital planning, please leave them below!
You may have seen that I recently restructured my monthly release to focus more on different kinds of scrapbooking. I love all kinds of scrapbooking and take part in many different scrapbooking niches. I design to reflect these interests, but I've been feeling for a while like various things I make have been getting lost in the giant bundles. So I restructured and now I'm looking for people to help highlight my designs within their own mode of scrapbooking.
If you're interested in representing my designs through your own scrapbooking projects (free access included!) please read on.
You will be responsible for one main project per month based on your scrapbooking niche, using my bundle for that month.
Your DigitalScrapbook.com profile should meet our profile expectations.
Post your project in the DigitalScrapbook.com gallery.
Post your project in one other location that feels natural to you. If you're a regular on Instagram, post there. If you belong to a different gallery and can post there, do it. Facebook Groups seem to me like the best avenue for sharing, so if you're a part of one of those, posting there would be great. I'd like to get the word out about the different bundles I'm creating for different styles, so the more specific of a group you can join to share, would be appreciated. Youtube is another great option.
You will receive free access to ALL of my designs. The time commitment is for about a year. If you're interested in a shorter term guest position, please let me know!

Email your answers to the following questions to [email protected]
1. What scrapbooking niche do you prefer?
Digital Scrapbooking
Digital Mixed Media
Pocket Scrapbooking (digital or hybrid)
Travelers Notebook (digital or hybrid)
Planner (digital or hybrid)
Other Hybrid Projects (junk journal, scrapbooking, etc)
2. Where do you plan to share your project outside of DigitalScrapbook.com?
3. Be sure to include the email attached to your DigitalScrapbook.com account so I can see your profile. (If you're writing from that email, that's good enough.)
I look forward to hearing from you!
Pages