New: October 2022 Planner Bundle
Any digital planners here reading this blog? Say hi in the comments below!
Digital planning has been my new thing for 2022. I've spent most of the year trying out different things, seeing what works for me, and as the end of the year approaches I'm starting to feel good about setting new rhythms with this new to me hobby.
I have long wanted to be a part of the planner craze, but I've never managed to get anything to work with me. Once I discovered that there was a digital option, I thought, maybe, perhaps, I could be on to something.
I always love the flexibility of digital. I don't have to keep track of physical supplies, or wonder where the undo button is. With a digital planner, if you suddenly decide to try a new notebook, you can just just copy/paste things you've written in your new spot. Also, if you start investing in stickers, you can use them as many times as you want.
Stickers and having sticker books may be the deciding factor for me in sticking (haha, didn't notice that pun the first time around) with digital planning.
So if you're interested in giving digital planning a try, or in getting ready for all the awesome stickers I made for October, you can set yourself up for the coming month with these planner goodies. I have undated spreads for daily, weekly and monthly use, some fun dashboards to add flair to your planner, and some widgets to help get your organized for the month ahead. And as I mentioned before many cute stickers will be released on October 1. So now is the time to prepare.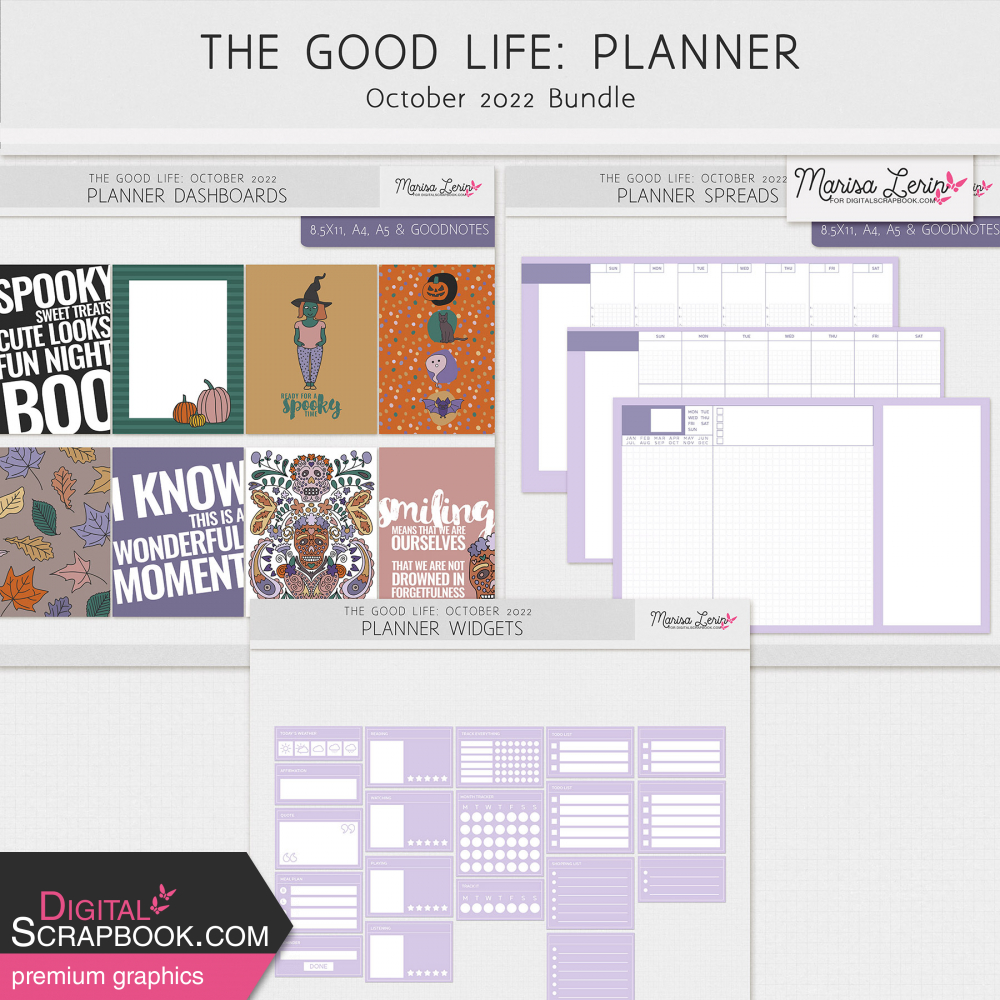 If you have any questions about digital planning, please leave them below!
Blog By
About Me
Hi There! I'm Marisa Lerin and you'll see me around at DigitalScrapbook.com a lot. I started this site in 2010 soon after I discovered a new love in digital scrapbooking. DigitalScrapbook.com has gone through some significant changes since that time and it's grown into this lovely community site you are seeing now. I am daily surprised by the turn of life's events that has led me down this path. If you're new to the site, welcome! Here are a few tidbits about me that I hope will help you get to know me better!
I'm originally from Minnesota, USA, but spent a good chunk of my childhood living abroad (in Bolivia and Hong Kong). I returned to Minnesota to attend university, got married and then moved overseas again (Korea, then Jordan and 1 year of traveling). My designs are heavily influenced by these many nomadic years. I am currently back in the USA, now living in the great state of Oregon!
I have no official training for what I'm doing, since I decided very wisely (haha) to study physics in university. I am always learning new things about digital scrapbooking, and this community has been immensely helpful for that!
If I manage to stop digital scrapbooking you will probably find me watching TV, reading or baking. I also enjoy writing for the blog here at DigitalScrapbook.com where I talk about whatever happens to be catching my fancy at the moment.