I have a couple short videos for you today, scrapbooking on my iPad. Even when I'm not traveling, the iPad is a significant help in getting my scrapbooking one. And on the road it is somewhat indispensable.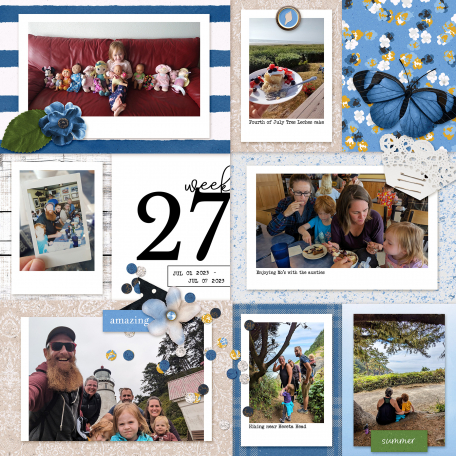 This first video shows me using a pocket template in Photoshop for iPad. The second video shows me decorating an already set up pocket page. These are weekly activities for me. I try to set up my pocket pages every Saturday, going through photos from the week and adding them to my layout template. At another time I will sit down and decorate the pages. Having these two tasks split from each other is what has kept me creating these layouts for over five years, through babies and travel and moving and other life complications.
My layout template can be found here.
The pocket card can be found here.
I use Jessica's lovely kit in the second video:

If you have any questions about my process, let me know!
Using a pocket page layout template in Photoshop for iPad:
Decorating a page in Photoshop for iPad:
I thought I would take a quick minute to update you on my projects I said I work on this year. Read about my goals and ideas I set for 2023 here. Hopefully you enjoy seeing what I'm up to as writing this post is helpful for me to see what I'm doing and see if I want to make changes to my creative habits.
Memory Planner
I have stayed the course so far with my digital memory planner. I do not think I have figured out 100% of what I would like to be doing with my digital notebooks (so many notebooks, so little time!!!), but I have settled into a good rhythm with this memory planner, which I do after the fact and do not use for actual planning. I love making the micro spreads on the daily pages as the commitment is very low and I can try out all sorts of products and supplies easily. Here are some spreads from June:
▼ Stickers from Sahin Designs

A few links to share if you're interested: this is the digital planner I'm using, and you can read more about digital planning here. Let me know if you have any questions! I'm trying to convert people to my current obsession :)
Digital Pocket Album
I continue to keep up with my weekly pocket spreads as well. I will tell you honestly though that the only reason I do any actual scrapbooking is because I can do it on my iPad. Pretty much everything you see me sharing here today I do on my iPad "after hours," when I can sit on the couch and chill out. I use the Photoshop app on my iPad and I love how everything syncs through the cloud to Photoshop on my computer, so I can easily finish up a few details.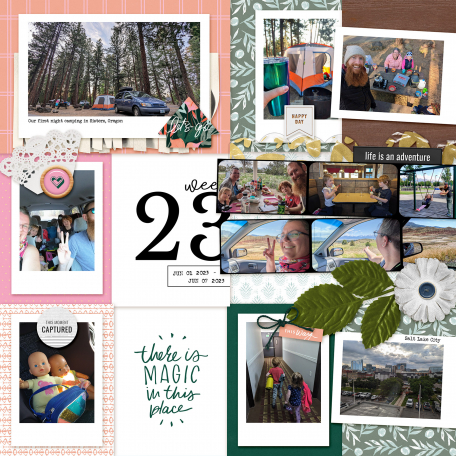 I have dropped the ball on my planned Travelers Notebook pages, which isn't surprising as we've had a lot going on and I'm happy to have stayed caught up with the two previous projects. We are getting ready to hit the road and then I will also be trying to keep up with my travel journal as well, so we'll see! I'll try and post an update again next month.
Pages