Everything About Travel Digital Scrapbooking
I've been to over 40 countries and scrapbooked most of these adventures, both digitally and occasionally with paper. I thought it was time to put this experience in one place and give you my best tips and tricks, inspiration and favorite products for getting the job done.
Getting Started
When I decide it's time to make an album for a trip I follow these steps:
Collect all my photos in a folder on my computer.
Open a blank scrapbooking canvas in Photoshop and drag the photos I want onto the canvas. I save these basic layers in a folder for the album ages and then delete the used photos from the photos folder.
Continue until all the photos are placed in a PSD.
Once the photos have been grouped in their PSDs, I then start making the layouts.
This method lets me know that I have all the photos I want included and how many pages I'm working with. I also know what's on the right and left side (very important if you're planning to print in a photo book). If you have a lot of pages you may want to check with your photo book company how many pages you can include in a book, so you don't end up needing two.
My Two Best Hacks for Creating a Travel Album
I used to struggle quite a lot with scrapbooking my travel photos. Eventually I realized it was because I didn't feel like the photos matched my scrapbooking style. I like to create decadent and busy scrapbook pages, but this often distracts from the photos, which I don't mind for random photos, but I do mind when I've taken a lot of effort to go somewhere special and take a really good photo. But I also find creating a minimalist style photo book really boring. This dilemma tied my hands for many years.
The solution I finally come up with for this was to mix and match scrapbook layouts with photo pages. This way I don't have to spend a lot of time on the minimal scrapbooking, but I can still have emphasis on the photos I really want to enjoy on their own. My Kenya photo book put this idea to work and I really love the results.
It can be easy after a trip to have a lot of photos you want to include and this feels overwhelming. I have two methods for dealing with this. One, is to wait. Scrapbooking right away after a trip has definite advantages, such as your memory being fresh. But waiting a while will give you better perspective on what photos you really want to include, and which ones aren't that important after all.
Sometimes though, there are still a lot of photos. My current solution to this is to add pocket pages into my travel scrapbooking process. I am currently working through a trip to Taiwan that Jordan and I took quite a while ago. To get the photos scrapped I have:
Plain photo pages for the photos I think should be stand alone.
Traditional scrapbooking layouts for the photos I like but aren't as amazing.
Pocket pages to get everything else in there.
Here's a screenshot from my active working folder for my Taiwan trip. You can see the photo pages, mixed with the scrapbook layouts and pocket pages. Many are still waiting to be scrapped.

Travel Digital Scrapbook Album Inspiration
Here are links to the travel albums I've created. If you're looking for some inspiration for your travel digital scrapbook album, it's a great place to start.
The Best Digital Scrapbooking Travel Kits
These digital scrapbooking travel kits have everything you need to scrapbook your recent travels, or travels from your past. This first travel bundle has lots of neutral elements which you can mix in with any kit. I find this an easier way to scrapbook my own travels as then I can find a kit that matches my photos and add in any travel elements I want to give it that jaunty flavor.
And a couple honorable mentions to these kits from other sites. I love this travel digital scrapbooking kit by Blagovesta Gosheva at the Sweet Shoppe and this lovely one by ninigoesdigi at the Digital Press.
Location Specific Digital Scrapbooking Travel Kits
We have lots of location specific travel kits as well.
The Best Layout Templates for Your Travel Digital Scrapbook Album
Layout Templates are a key feature to getting your travel album done within any sort of time frame. We have hundreds of layout templates available here at DigitalScrapbook.com. Here are just a few I think would work well for your travel album.
Having room for lots of photos is often an important feature when looking for layout templates for travel scrapbooking.

Room for journaling can also be an important feature in your travel layout template.

Available at the Lilypad, these are some stunning layout templates to use in your travel album.

And finally I would not be helping you out if I did not link to my precious pocket scrapbooking layout templates.

The Best Quick Pages for Your Travel Digital Scrapbook Album
If you're really in a hurry, quick pages will get your travel album finished even quicker. We have lots of great quick page options available here at DigitalScrapbook.com. Here are a few sets I think would work particularly well to help you create a digital scrapbooking album.
This quick page bundle has 45 quick pages, all coordinating, using the Egypt bundle. These are the pages I created with my own travel photos and so I feel confident in thinking they may work well for your trip as well, whatever the location. And with so many pages to choose from, your album will be finished in no time.

/
If you're looking for a different color scheme, these quick page kits also have lots of options,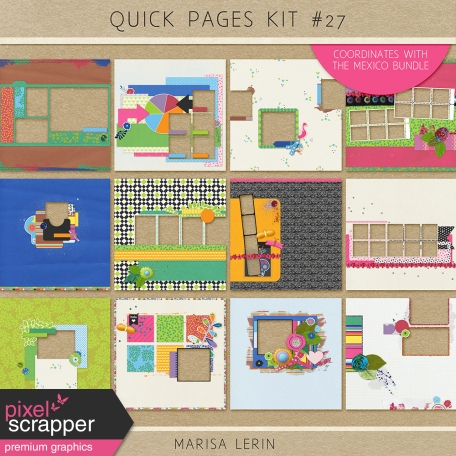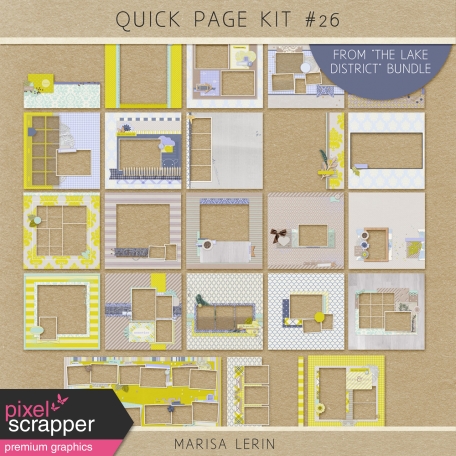 Here's another large bundle of 40 quick pages. These pages are fairly neutral, with lots of space to make it your own, and also have lots of options for number of photos.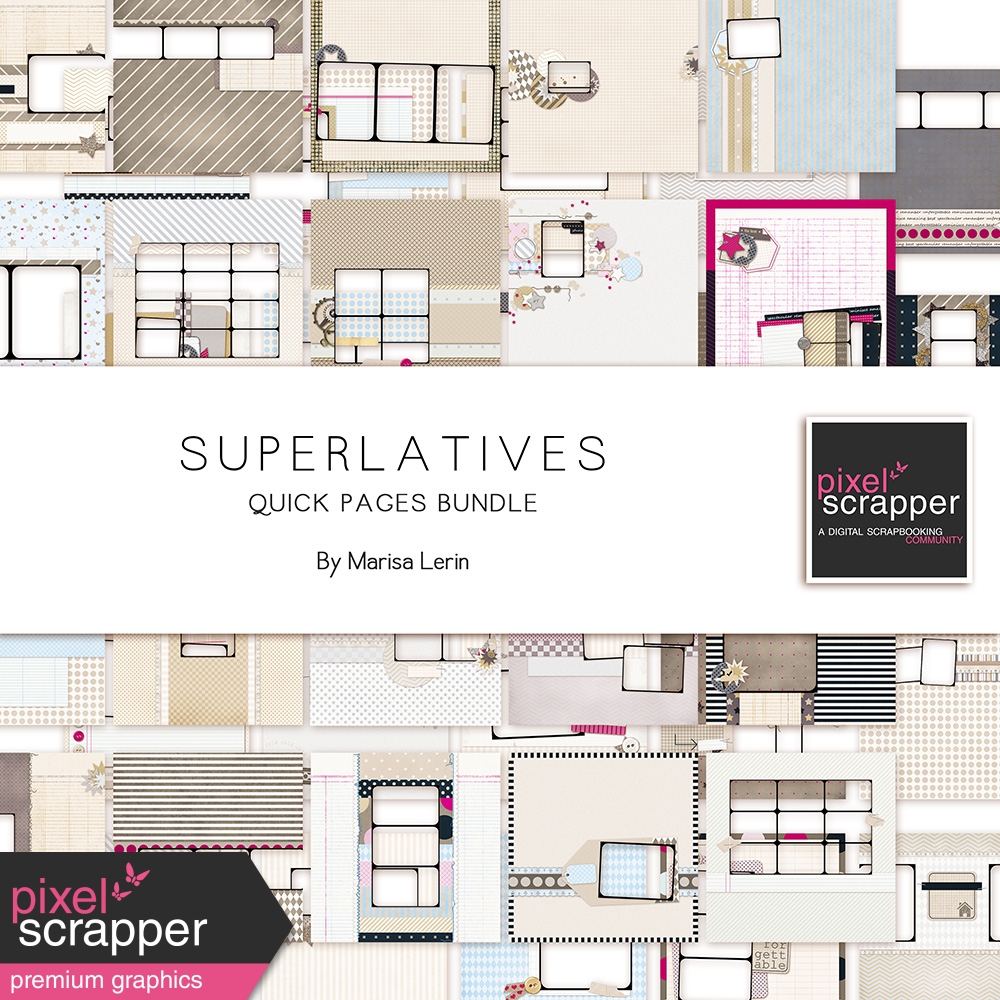 And if I've managed to convert you to try some pocket pages we have lots of those to choose from as well!
Good Luck!
I hope this article was helpful in inspiring you to tackle that travel project. Let me know if you think I've missed anything, or what destination you'll be scrapping next.
Blog By
About Me
Hi There! I'm Marisa Lerin and you'll see me around at DigitalScrapbook.com a lot. I started this site in 2010 soon after I discovered a new love in digital scrapbooking. DigitalScrapbook.com has gone through some significant changes since that time and it's grown into this lovely community site you are seeing now. I am daily surprised by the turn of life's events that has led me down this path. If you're new to the site, welcome! Here are a few tidbits about me that I hope will help you get to know me better!
I'm originally from Minnesota, USA, but spent a good chunk of my childhood living abroad (in Bolivia and Hong Kong). I returned to Minnesota to attend university, got married and then moved overseas again (Korea, then Jordan and 1 year of traveling). My designs are heavily influenced by these many nomadic years. I am currently back in the USA, now living in the great state of Oregon!
I have no official training for what I'm doing, since I decided very wisely (haha) to study physics in university. I am always learning new things about digital scrapbooking, and this community has been immensely helpful for that!
If I manage to stop digital scrapbooking you will probably find me watching TV, reading or baking. I also enjoy writing for the blog here at DigitalScrapbook.com where I talk about whatever happens to be catching my fancy at the moment.