Welcome to the February 2020 Scripture Challenge. Thank you so much for joining.
Many thanks to designer Gina Jones for this great idea.
Please use a scripture about love for your layout and share your layout here and in the gallery.
Here is a tutorial on how to do that.
Please use a scripture from the Holy Bible or any other holy book. I have used this scripture from
1 John 3:18
Dear children, let us not love with words or speech but with actions and in truth.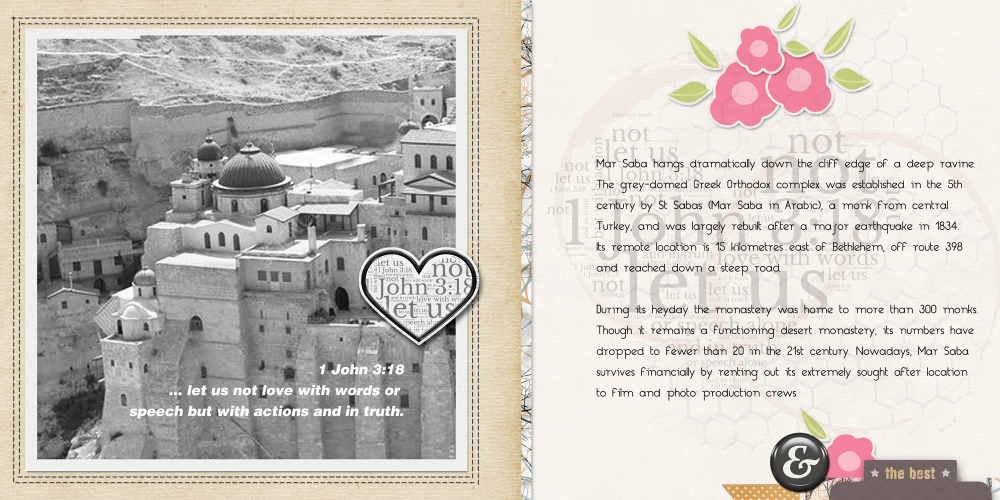 You may enter as many layouts as you'd like for a challenge, but please only post your layout to one challenge.
Link your layout here in this thread to your gallery.
Doing this makes it much easier for others to find your layout and smiley or comment on it.
If you don't know how to do this there is a great tutorial here.
Please, also credit the graphics you have used for your page in the gallery and do mention the designer's name of a template or an element, such as a flower or a paper, you are using if attribution is not an option. Many thanks!
And before I forget, please
support my feature request for the gallery and vote here.
The Details

Challenge ends when February does.
Be sure to post your layout in this month's completion thread if you would like to earn download credits. More details here.
You must tag your layouts with these two tags: feb 2020 scripture, feb 2020 wlm
See entered layouts here.
See updated rules here.