My Scrapping in February 2023
I shared a few weeks ago about my scrapbooking plans for 2023, so I thought I'd make a quick update about the things I've been making.
I've made several pages for my digital travelers notebook where I choose the photo from the day and create a quick little spread. In this first spread I had a lot of fun incorporating vintage and ephemera elements, and playing with a more neutral color scheme. The antique-style elements and papers added a charming touch to the layout, and the soft color palette of white, gray, black, and tan created a warm and inviting atmosphere. I love the size of these layouts because it doesn't feel like a big commitment and I can try colors and styles I wouldn't normally.
I've had several comments about the notebook I've been using to display these pages. I haven't prepared it to share on the site yet, but I plan to. So if you're interested, let me know in the comments to help inspire me to get it ready ;) .
It was also fun to put this page together. The background is something I was working on for a different project and couldn't wait to use. A few random bits and pieces later and this spread captures a sweet little moment between my two kids.
A couple more pages for my pocket style album as well. There are so many reasons why I love this pocket scrapping, but I think the main reason is the versatility and ease of getting things done. I don't have to come up with a new layout every week, but I can still experiment with different kits and styles week to week.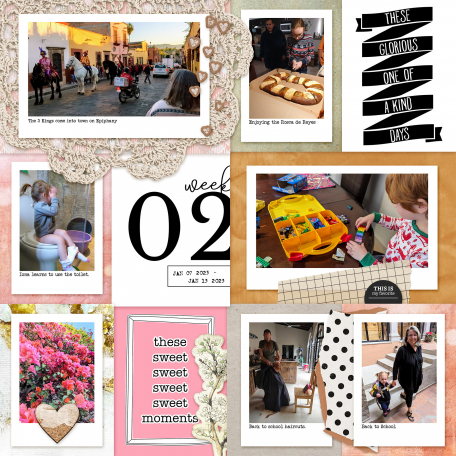 I've really enjoyed making these little daily spreads in my digital planner. I often get behind, but since the days double up, it's not hard to catch up. Also, I don't do a ton of decorating, it's more a chance to play around with whatever's new or catching my eye.
And finally a weekly spread from my digital planner. I use stickers and markers like you might in a paper planner, only I'm not limited to whatever color pens I happen to own.

How have your memory keeping plans been going?
Blog By
About Me
Hi There! I'm Marisa Lerin and you'll see me around at DigitalScrapbook.com a lot. I started this site in 2010 soon after I discovered a new love in digital scrapbooking. DigitalScrapbook.com has gone through some significant changes since that time and it's grown into this lovely community site you are seeing now. I am daily surprised by the turn of life's events that has led me down this path. If you're new to the site, welcome! Here are a few tidbits about me that I hope will help you get to know me better!
I'm originally from Minnesota, USA, but spent a good chunk of my childhood living abroad (in Bolivia and Hong Kong). I returned to Minnesota to attend university, got married and then moved overseas again (Korea, then Jordan and 1 year of traveling). My designs are heavily influenced by these many nomadic years. I am currently back in the USA, now living in the great state of Oregon!
I have no official training for what I'm doing, since I decided very wisely (haha) to study physics in university. I am always learning new things about digital scrapbooking, and this community has been immensely helpful for that!
If I manage to stop digital scrapbooking you will probably find me watching TV, reading or baking. I also enjoy writing for the blog here at DigitalScrapbook.com where I talk about whatever happens to be catching my fancy at the moment.