Welcome back to the Month In Review Challenge. This is a pretty straight forward one.
Please, make a layout, possibly a spread, that reviews March 2020 and share yor layout in this thread and in your DigitalScrapbook.com gallery. Link your post here to your DigitalScrapbook.com gallery. It is also a good opportunity to back up your March 2020 photos.
The way I make mine is really simple. I collage with the google photos collage function where I have all my phone pics, dl the collages and put them on a spread, then I add texts and decorate a little bit.
I used my PSBT March 2020 My Tribe and April 2020 Travel The World contribution for my two pager.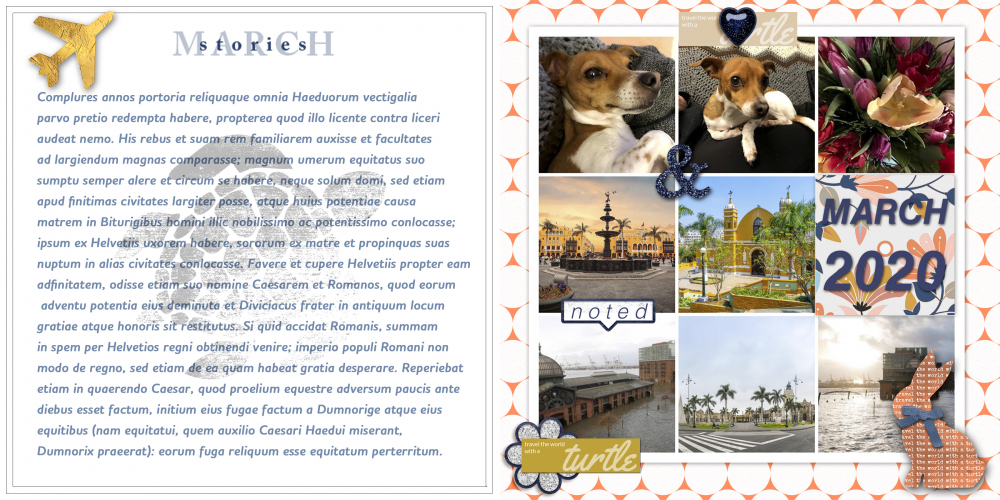 There are fantastic month in review style templates and graphics here at PS.
Find layout templates here , find month tags and great circle text here and great two page layout templates here.
A super easy way to get album consistency is to use an alpha set that works as a unifier and ties it all together.
Check out these Month Stamps by Janet Scott.
Great new month tabs by Marisa
Challenge ends when April does.
Be sure to post your layout in this month's completion thread if you would like to earn download credits. More details here.
You must tag your layouts with these two tags: apr 2020 month, apr 2020 layout challenge
See entered layouts here.
See updated rules here.