Tiny, but Mighty - Templates, Shape Masks, Overlays, and Textures Bundle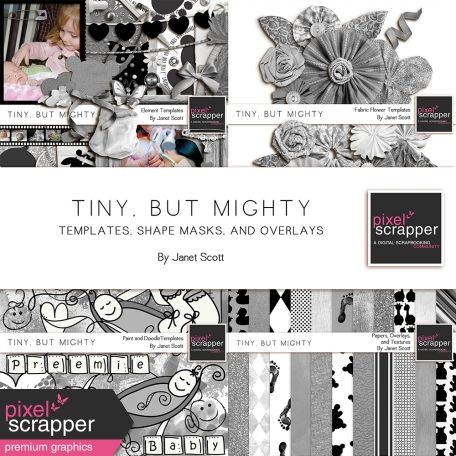 Individual Items In This Bundle
Example Layouts
No example layouts yet...
Designed By
About Me
Hey there,
I'm Janet. I was born and raised in Minnesota. My favorite title is mommy to two of the smartest, most beautiful, spunky, sweet girls out there. When I'm not taking care of the little peanuts, I run my photography and design businesses.
I stumbled across DigitalScrapbook.com early on when it was first started (before it became the site that it is today). Ironically, I ended up messaging Marisa to see if I could help contribute. I wanted to find a way to give back. Little did I realize that years later I would end up being fortunate enough to join this fab team! :)
Download
Bundle Info
Contains 4 kits
140 total items
256.5

mb

total file size, split into 4 zip files
All items commercial print quality at 300 dpi
Description
In 2009 I delivered our first beautiful baby at 35 weeks gestation. The fear and uncertainty that surrounded her birth was more than a first time parent should have to face. Then in 2012, after a very complicated pregnancy, our second darling girl was born at 28 weeks 4 days gestation. It's the difficult birth of and ensuing NICU stay that our youngest peanut that inspired me to design this bundle. I wanted to create designs that allow NICU parents to document the not so typical journey that their little ones face.
All of that said, despite the fact that this bundle revolves around prematurity, I wanted to design assets in such a way that they're versatile enough to use in virtually any baby layout. Beyond that, there are specific kits within the bundle that would be a wonderful addition to any stash and that can easily be incorporated into any layout.
This kit isn't just a typical kit. For the month of December, all proceeds gained from the individual kits as well as the bundle will be donated to the NICU where our Sophia spent the first two months of her life.
This extensive bundle includes...
- Tiny, But Mighty Elements Kit (72 elements)
- Tiny, But Mighty Medical Elements Kit (36 elements)
- Tiny, But Mighty Paper Kit (38 papers)
- Tiny, But Mighty Extra Paper Kit (36 papers)
- Tiny, But Mighty Solids Paper Kit (18 papers)
- Tiny, But Mighty Paint and Doodles Kit (50 elements)
- Tiny, But Mighty Fabric Flowers Kit (41 elements)
- Tiny, But Mighty Phrases Word Art Kit (32 elements)
- Tiny, But Mighty Single Words Word Art Kit (31 elements)
That makes for a total of 150 elements, 92 papers, 53 paint and doodle elements, and 59 word art elements!
Unique ID
Colors
Tags
baby
,
preemie
,
premature
,
birth
,
medical
,
hospital
,
illness
,
sick
,
doodles
,
paint
,
fabric flowers
,
fabric
Stats
Uploaded Sun, 01/19/2014 - 07:00
3201 Views
750 Downloads
33 Comments
92 People heart this