Toolbox Paint - Borders & Edges 01 Kit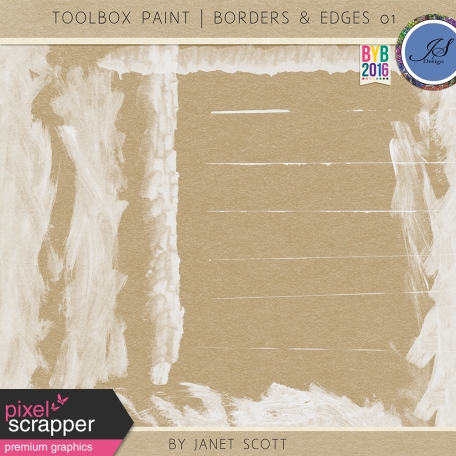 In This Kit
Example Layouts
No example layouts yet... yours could be the first! Just reference this kit when you upload your layout.
Designed By
About Me
Hey there,
I'm Janet. I was born and raised in Minnesota. My favorite title is mommy to two of the smartest, most beautiful, spunky, sweet girls out there. When I'm not taking care of the little peanuts, I run my photography and design businesses.
I stumbled across Pixel Scrapper early on when it was first started (before it became the site that it is today). Ironically, I ended up messaging Marisa to see if I could help contribute. I wanted to find a way to give back. Little did I realize that years later I would end up being fortunate enough to join this fab team! :)
Download
Kit Info
photoshop sundry kit

Has brushes .abr files
Has image .png files

Contains 13 items
19.7

mb

single zip download file
All items commercial print quality at 300 dpi
Description
Being a momma, I often try to have my girls be a part of my design process. Whether it be helping me dig through my massive button and ephemera collections, brainstorming ideas, or even getting hands on and helping to create.
This time around, we painted together. They came up with some beautiful watercolors, while I painted my own items to extract. Lots of fun family time!
If you want even more paint goodness, make sure to check out this kit.
.
Unique ID
Colors
Tags
paint
,
painted
,
border
,
edges
,
stamp
,
brush
,
toolbox
,
toolbox paint
,
build your basics
,
byb
,
elements
,
embellishments
,
templates
,
paint kit
,
template kit
Stats
Uploaded Tue, 09/05/2017 - 16:00
1939 Views
465 Downloads
25 Comments
67 People heart this