Homestead Life: Summer Bundle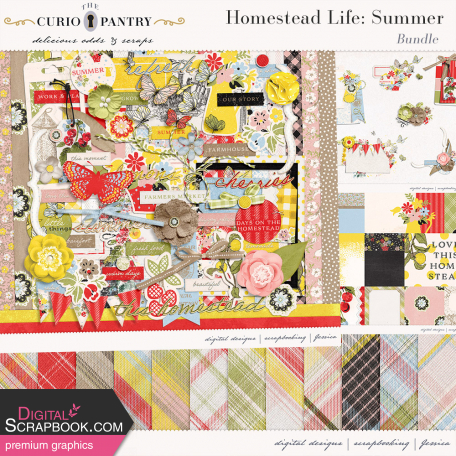 Individual Items In This Bundle
This bundle does not currently have any items available for individual download.
Example Layouts
Designed By
About Me
My name is Jessica but you can call me Jessi or Jess if you prefer!
Wife. Mother. Designer. Keeper of chickens & an old house. A few favorite things : Autumn. Winter. Coffee. Old Books & Photos. Fireplaces. Cotton & Linen. Antiques. Ribbons. Nature.
"I don't profess to be profound, but I do lay claim to common sense." Emily Dickinson
Follow Me
Download
Bundle Info
Contains 5 kits
146 total items
388.5

mb

total file size, split into 5 zip files
All items commercial print quality at 300 dpi
Description
The second in my Homestead Life series, this Summer bundle is all about the blue skies and summer harvests! Nothing like summer to bring fresh foods, delightful visits to the farmer's market, blue skies, warm days and a wonderful balance of work & play!
This bundle coordinates with Homestead Life: Spring, and you can find more coordinating solid papers here.
Unique ID
Colors
Tags
banner
,
polka dots
,
farmhouse
,
homestead
,
flower pot
,
pitcher
,
summer
,
cherries
,
lemons
,
blue skies
,
refresh
,
lemonade
,
happy
,
warm days
,
work
,
play
,
barefoot
,
fresh food
,
grow
,
lantern
Stats
Uploaded Tue, 07/12/2022 - 21:00
1077 Views
223 Downloads
15 Comments
34 People heart this