Lakeside Autumn Bundle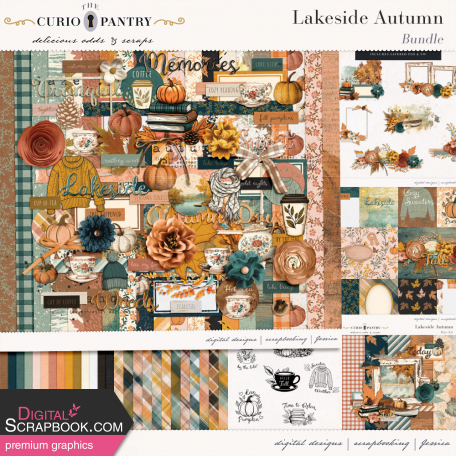 Individual Items In This Bundle
This bundle does not currently have any items available for individual download.
Example Layouts
Designed By
About Me
My name is Jessica but you can call me Jessi or Jess if you prefer!
Wife. Mother. Designer. Keeper of chickens, turkeys & an old house. A few favorite things : Autumn. Winter. Coffee. Old Books & Photos. Fireplaces. Cotton & Linen. Antiques. Ribbons. Nature.
'The Curio Pantry' is what I design under. If you are not familiar with my designs they are a bit eclectic, mostly elegant & vintage inspired designs with a little cuteness here and there. I dabble with hand drawing so at times you may see some of that worked into kits.
"I don't profess to be profound, but I do lay claim to common sense." Emily Dickinson
Follow Me
Download
Bundle Info
Contains 8 kits
197 total items
920.4

mb

total file size, split into 8 zip files
All items commercial print quality at 300 dpi
Description
Lakeside Autumn is a wonderful addition for you whether you are sitting by a warm fire after sunset with friends or family, watching the sunrise on a brisk morning, relaxing with a good book, or just enjoying the autumn season in your own backyard. There are nearly 200 elements, stamps, clusters, journal cards, and papers to help you re-create your memories onto your pages or projects.
Unique ID
Colors
Tags
autumn
,
fall
,
lake
,
woods
,
pumpkin
,
books
,
pinecone
,
scarf
,
boat
,
coffee
,
hat
,
tea
,
teapot
,
teacup
,
tranquil
,
sweater
,
reading
,
family
,
leaves
,
cabin
,
striped
,
wood
,
plaid
,
gingham
,
floral
Stats
Uploaded Sat, 09/30/2023 - 21:00
1111 Views
262 Downloads
20 Comments
41 People heart this