Kmrd-classic Christmas Bundle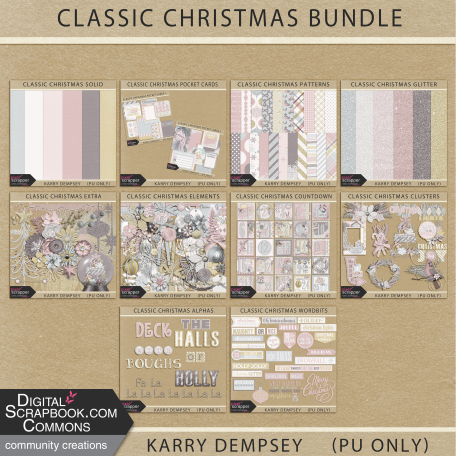 Individual Items In This Bundle
This bundle does not currently have any items available for individual download.
Example Layouts
Designed By
Commons Designer
Level 3
About Me
Hi - I'm Karry and I live in Montana. I have done traditional scrapbooks for some time. I initially joined Pixelscrapper for the papers because I thought there were so many nice collections. I would print them out and use them in my own layouts or in mini-albums that I like to make. I've been using Photoshop for awhile but mainly just for photo editing. I have learned so much from the tutorials on this site and that is actually what started me scrapping digitally...so, THANKS PIXELSCRAPPER. I have a 9 year old boy and it seems now I am scrapping more things since I can do it on the computer which is great for our family in the long run. To me doing layouts with children couldn't be any more fun! I LOVE IT!
Download
Bundle Info
Contains 10 kits
243 total items
760

mb

total file size, split into 10 zip files
All items commercial print quality at 300 dpi
Description
This bundle was created for the October 2021 Designer Challenge. Enjoy!
All of these kits will not be able to be uploaded at once. I will upload them as my limits on uploading permit. I will start uploading the various kits on October 31, 2021.
Unique ID
Colors
Tags
Stats
Uploaded Sat, 10/30/2021 - 09:14
575 Views
112 Downloads
21 Comments
27 People heart this