Karen Snyder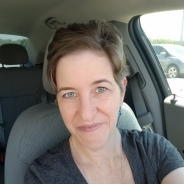 3392 Community Points
About Me
My husband and I recently celebrated 26 years together. We have two children, 9 and 11, and they are the center of everything I do. I fell in love with paper when I was a kid and discovered scrapbooking in my twenties. When our children were born, the scrapbooking took on a whole new life! I am very, very new to digital scrapbooking, although I have been creating other digital items (planner printables, home decor, kid crafts) for years. I don't know why it took me so long to try my hand at digital scrapbooking - perhaps it was the fear of leaving my beloved paper behind? Regardless, once I realized that I could do a hybrid form of scrapbooking, I jumped in with Photoshop Elements with both feet.
I love all manner of artistic pursuits. I keep a music journal, have for years, and I've found that I go about it very differently than most. I can't wait to see how I can incorporate digital concepts into it!
I have recently begun a blog, but it is in its infancy and I'm afraid that I'm not very good at the whole blogging thing just yet. I tend to get sidetracked with other ideas that come into my head but I hope to plan better for it this year and devote more time to it.
I am a planner addict. My entire life is in it and if I lost it, I would pick my kids up at the wrong time, never know what to make for dinner and would lose every phone number and address that isn't, by some miracle, saved in my phone!