Style No.70: Puffy Fabric Kit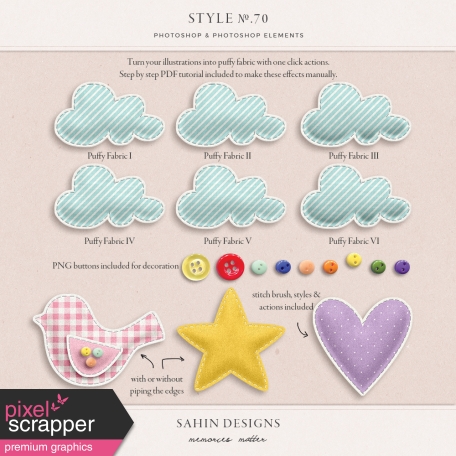 In This Kit
Example Layouts
No example layouts yet... yours could be the first! Just reference this kit when you upload your layout.
Designed By
About Me
Hello!
I am Elif, face behind Sahin Designs.I am a self-educated graphic designer who loves scrapbook and photography. My design history is fairly new yet I can't tell how much I love to learn new things each day. Pixel Scraper is my first place where I started designing, actually to be correct it is where I started scrapbooking! And I love this place, fellow designers and the PS community where everyone is so helpful and full of love!
Follow Me
Download
Kit Info
photoshop sundry kit

Has style .asl files
Has brushes .abr files
Has image .png files
Has action .atn files

Contains 31 items
9.6

mb

single zip download file
All items commercial print quality at 300 dpi
Description
Puffy fabric Photoshop layer styles and actions for digital scrapbook designers. Set contains two different puffy fabric style sets, and a set of stitch style set in Photoshop style (.asl) file, 6 fabric actions and 1 stitch action in Photoshop action (.atn) file, one stitch and one stitch holes brushes in Photoshop brush (.abr) file. 9 png buttons included for decorating the puffy fabric illustrations. Applicable to any color.
Styles and brushes are compatible with Photoshop and Photoshop Elements.
Actions are tested with Photoshop CC.
Manual instructions included as PDF file for you to follow if you can't use the actions with older versions of Photoshop or Photoshop Elements.
Unique ID
Colors
Tags
Stats
Uploaded Sat, 01/13/2018 - 00:23
2760 Views
773 Downloads
29 Comments
112 People heart this